Rent Down, Vacancies Up in Q4 Vacancy and Rent Report
Date posted
January 27, 2021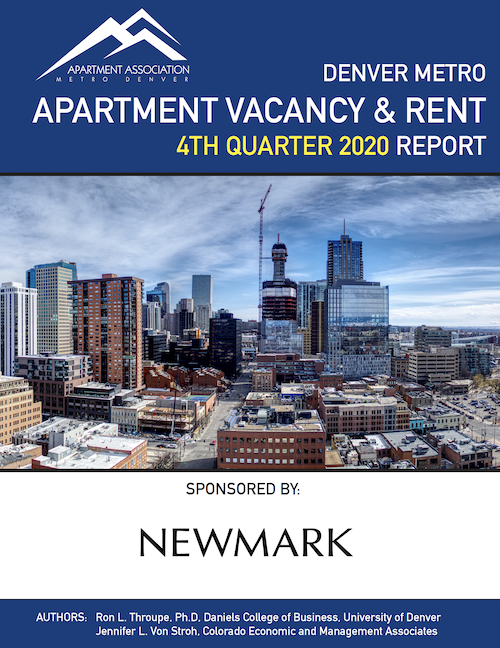 Today, the Apartment Association of Metro Denver released Q4 2020 results from the quarterly Denver Metro Area Apartment Vacancy and Rent Survey conducted by the University of Denver's Daniels College of Business and Colorado Economic Management Associates. The report showed a decrease in rent and an uptick in vacancies, with the lowest annual rent growth in more than a decade.
Average Metro Denver rents were down slightly for the quarter from $1,521 to $1,510. On a year over year basis, average rent was slightly up from $1,503 to $1,510. This half of one percent (.5%) in 2020 marks the lowest rent growth since the great recession, when rents decreased over the 12-month period from 2008 to 2009. Median rents were also down 0.5% this past quarter from $1,463 to $1,449.
"In every building age category – buildings built in the 1950s, '60s, '70s, '80s, '90s, 2000s and 2010s – rents went down," explained Mark Williams, executive vice president of the Apartment Association of Metro Denver. "The only culprit for rents increasing slightly in 2020 was the 2020 rental units themselves. This makes sense because the most recently-built apartment homes are often the most expensive and drive the overall average rent up."
There were over 11,000 new apartments built in 2020. "This is the seventh year in a row where the industry built more than 7,500 apartment units," Williams added. "There were more than 65 different apartment communities finished this past year, and according to Apartment Insights, there's about 100 more communities in the construction pipeline over the next two years."
The total net absorption of new units, or the net change in the number of apartment units rented, remained lower than previous years. For all of 2020, 8,185 units were absorbed, compared to 10,829 in 2019 and 13,708 in 2018. For the quarter a total of 5,811 units were added to the Denver Metro Area, double the amount of last quarter, and bringing the total unit count to 370,285.
The overall apartment vacancy rate ticked up a bit from 5.3% from a year ago, to 5.8% this past quarter, calculating to approximately 21,000 available apartment homes.
"There is a reasonable amount of available housing, and coupled with the simultaneous flattening rent rates, this becomes good news for renters," Williams explained.
Among the highest vacancy rate in the area is downtown Denver. "We are seeing softening in the urban core, which is generally bad news overall for the Denver community," Williams said.
There are several reasons for people leaving urban areas – taxes, social unrest, safety concerns, and the COVID pandemic all are impacting what is normally a bustling social scene and active work life in central Denver. The area's hospitality, restaurant and tourism landscape must recover in 2021, otherwise this troubling trend could continue and deter interest in the overall region.
Certainly, the eviction restrictions during 2020 have presented an unnatural force in the market and may likely have kept vacancies down some, but most apartment communities are reporting active traffic and new renter interest from different states.
"Including the market impacts of the pandemic, the numbers reflected in the Q4 Vacancy and Rent Report don't stray too far from normal, considering increased vacancies and decreased rent are both consistent trends for fourth quarter seasonal results," said Newmark vice chairman Terrance Hunt. "Given the expansion of remote working opportunities many professionals have experienced this year and will continue to experience, Denver is positioned for continued growth in its multifamily market."
The Q4 survey was modified to collect COVID-19-specific data, asking about delinquency patterns for the months of October, November and December of 2020. The results did not change from Q3 and demonstrated that delinquency remained low, with a majority of rental housing providers responding that more than 95% of renters continued to pay their rent. Colorado has one of the highest rates of rental payment in the country.
"In addition to housing providers working with residents to keep everyone housed, financial housing assistance programs have contributed to high rent collection rates," Williams said.
The Denver Metro Area Apartment Vacancy and Rent Report is coordinated and published by the Apartment Association of Metro Denver. The survey is conducted by the University of Denver's Daniels College of Business and Colorado Economic and Management Associates and is sponsored by Newmark.
The quarterly Vacancy and Rental Rate Survey is authored by Ron L. Throupe, Ph.D. of the University of Denver Daniels College of Business, and Jennifer L. Von Stroh of Colorado Economic and Management Associates. It has served as a reliable source for comprehensive data and analysis for over 39 years and is made possible through the ongoing participation of the apartment industry and broad support from private and public sector sponsors.