Forms and leases
The most up-to-date, comprehensive set of leases and forms for the apartment manager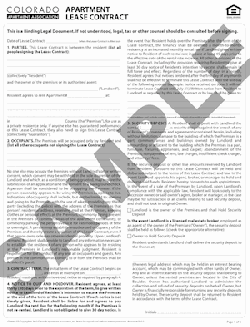 The Colorado Apartment Association leases and forms are designed and written with the community management and renter in mind, to formulate a transparent and understanding relationship.
They are the most up-to-date forms in Colorado, and available in physical and electronic formats.
Physical Forms:
Physical forms are available in triplicate format. Online ordering through CAA Website available soon.
Electronic:
Tenant Tech Electronic Forms NAA Click & Lease
Forms available include:
Apartment Lease
Single Family Home Lease
Renewal Lease
Non-Renewal Form
Rental Application
Move In / Move Out
Pet Addendum
Utility Addendum
Demand for Compliance
Lead Paint Addendum
Pest Addendum
Mold Addendum
Crime Free Addendum
Smoking and Marijuana Addendum
Brokerage Disclosure to Tenant
Notice to Quit
3-Day Notice to Quit
Notice to Quit (Repeat Violations)
3-Day Notice to Vacate (Employee)
Agreement for Non-Waiver and Partial Payment